But I also need a simplified bag. Something smaller, sleeker, that I can just slip over my shoulder messenger style and be done with it. Something with lots of small pockets. And something cute!
My inspiration came from a beautiful leather worked clutch I saw in a gallery in Mexico.
When I saw this
belt
today from
oonaballoona
, I was reminded of my grandfather's leather punching tool and that I could use that to work with leather. Let's do this!
Here are my pattern options. I'm thinking having a portion like the flap done in leather with fabric under it.
Vogue bags
because they have inner
pockets
(the plural is important), and can either be customized (like the lace front bag at bottom left) or come with built-in interest (like the weave-front bag center right).
Vogue bags
are
ugly
, but I like that they are sleek and have
lots
of pockets. I will just have to make them up in a prettier fabric (what's with Vogue and its patchwork collections?!). It would be nice to have a bit of a longer, sleeker bag like this.
Simplicity
has its own version of the trendy clutch. A little simpler, but still fun. I like the blue one. No mention of inner pockets.
This
is what McCall's offers in terms of hip bags, but they are very BIG and not as intricate as the Vogue ones. Plus, it only says one pocket.
From Burda there are a couple of options. The
Diana Bag
is a little too big but is the shape I want. There are lots of posted versions for inspiration.
The
Dia de los Wallet
also caught my eye.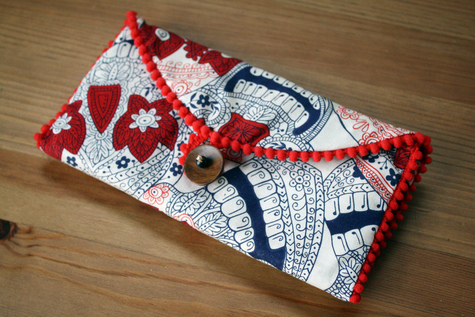 Burda Shoulder Bag
is the shape that I really want But there aren't really any descriptions or finished projects to go off of. And what's the difference between
A
and
B
?
bag
, as long as its the right size.
small
or
large
. Probably something in the middle.
bag
looks about the right size, but it's kinda plain.
hipster bag
, but still can't decide if this is the shape I'm going to go for.
After looking at some real world examples, I've broken it down into two categories:
Square: